R.J. Smith - Biography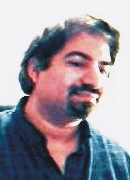 R.J. SMITH (above)
R.J. SMITH is the host of R.J.'s CAFE RADIO SHOW, heard every Monday between 12 noon and 1:30 pm Pacific on 95.1 WDCR Community Radio, also streaming live at www.wdcr.ca

The show features great music from the 1970's and 1960's, local news, sports, interviews and talk.

R.J. is the founding General Manager and Program Director of Westbank and District Community Radio Society, the Okanagan's first community radio station and West Kelowna, B.C.'s first radio station.

WDCR officially launched on July 25th, 2013, 10:35 am Pacific, at the Governor's Landing Shopping Center, West Kelowna, B.C., and was witnessed by about half a dozen media, the Mayor of West Kelowna, the local Member of Parliament, the communications manager for Westbank First Nation (W.F.N.) and over 350 concurrent internet listeners.

A proponent of community radio since 1984, R.J. has trained over 100 individuals for broadcast roles and has previously served in management for prominent community stations across the country, including CITR Vancouver, CFUV Victoria, and CKDU Halifax.

He is a graduate of the Radio Broadcasting program at Columbia Academy (Calgary, AB.), studied Broadcast Journalism and management at British Columbia Institute of Technology, (Burnaby, B.C.), and was a full-time Criminal Justice student at Camosun College, (Victoria, B.C.)

He is also a trained graphic artist and graduate of Pitman Business College, (Vancouver, B.C.)

For more information, call (250) 768-1111 or: newsandsports@wdcr.ca

Or check out our Facebook and Twitter.




To return to the WDCR Program guide, click here.